DXRacer AIR Mesh Gaming Chair Review – Stellar Support With Professional Style
DXRacer AIR Mesh Gaming Chair Review – Now that I'm in my mid-30s, I realize often just how much more I have to take care of my body than I did even five years ago. The tricky part about this is being able to maintain my way of life in doing so. A good bed plays a part in this. Equally important, if not more so, is finding seating apparatus that keep you amply supported.
Gaming is no different. We sit at our desks or in front of our TVs for hours several times a week, if not more. That's the space where the DXRacer AIR Mesh Gaming Chair wants to put itself, offering a sleek gaming chair with a more professional appearance. Does the AIR balance that line between professional comfort and gaming demands?
DXRacer AIR Mesh Gaming Chair Review
---
DXRacer AIR Mesh Gaming Chair Stellar Support With Professional Style
The AIR stands at one foot seven inches from seat to floor, or 53.34 centimeters; and the top of the chair reaches 4.5 feet tall, or 1.4 meters. The chair itself weighs 46.96 pounds, or 21.3 kilograms, and can hold up to a recommended weight of 250 pounds, or 113.4 kilograms.
The recommended maximum height for the person using the chair is 6 feet 2 inches, or 1.6 meters. Unfortunately, the chair itself only raises up by 2 inches, or about 5 centimeters, so the chair doesn't offer much room for adjustment on that front. Because of this, people with longer legs than most will probably end up sitting with their thighs off the chair if they sit with their feet flat on the ground.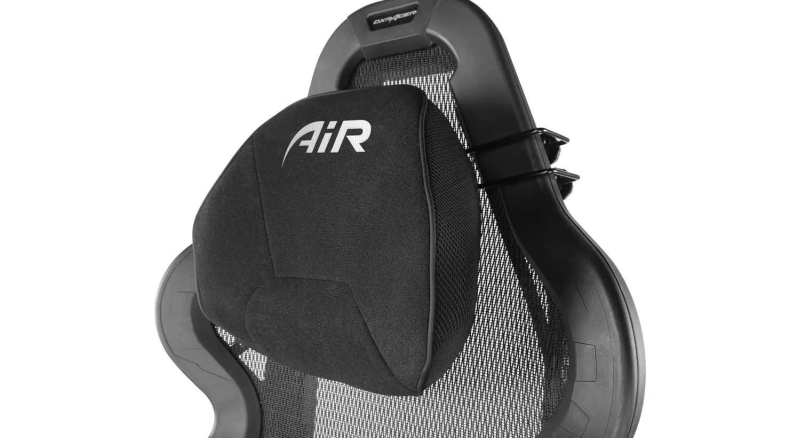 Both the headrest and lumbar support have their own sliders, allowing them to adjust on the fly. The headrest sensibly is more challenging to move up and down, mostly because the slider it rests on offers more resistance to help keep the headrest in position. If you so choose, you can also remove the whole headrest setup by unscrewing its framework from the back of the chair.
The lumbar support works in a similar fashion. This support slides up and down with a similar resistance that the headrest has until you lean into the chair. Then, with the weight of your back resting on it, the lumbar support gets pinned between you and the chair framework, keeping it in place.
To clarify, the lumbar support does not move on its own when you stand up, allowing you to set it where you like it and forget about it. It just can't be adjusted while you lean back into the lumbar support.
Professional Comfort
Unlike comfort models, the AIR uses the type of mesh found in many office chairs instead of padded cushions, and the mesh works to great effect. I personally prefer a more firm chair than a padded one, and the mesh offers that very level of comfort. The mesh is pulled taut within the framework and offers little give after sitting in it.
However, it does start to stretch slightly as you use it more, conforming just enough to your body to support it better without wearing out the mesh in doing so.
The acclimation period for the AIR took me about four days of using it. Apart from the slight giving the mesh does, there is one piece of rolled support plastic that resides just behind your knees under the meshing. I feel this is designed to act as a support so the mesh doesn't wear out from your legs and knees constantly pressing down on the front of the chair.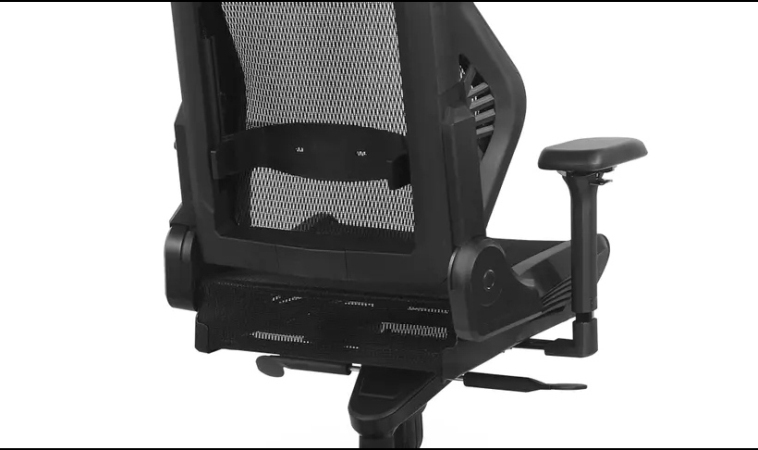 It felt rigid for the first couple days, and it initially bothered my legs after 10 minutes of sitting. After you break in that plastic with regular use, it supports your legs perfectly without causing any discomfort from resistance. Initially, I didn't think I would stick with the AIR for too long. Now that it's broken in properly, it has become part of my formal work setup for long sitting sessions.
Don't Lean Into It
One time while using the chair, the lock mechanism that keeps the chair from leaning backwards let loose on its own. I don't tend to just plop down in chairs, but I do stand a great deal in my normal daily routines. This unlock only happened one time, so it might be a fluke or something unique to my review unit, but it still happened.
This does bring up one point that's worth mentioning, one that might affect someone with different habits than I. A great deal of the weight in this chair resides above the legs, leaving the chair top heavy. If you use the chair like I do and lock it completely upright, you won't face many issues on this front.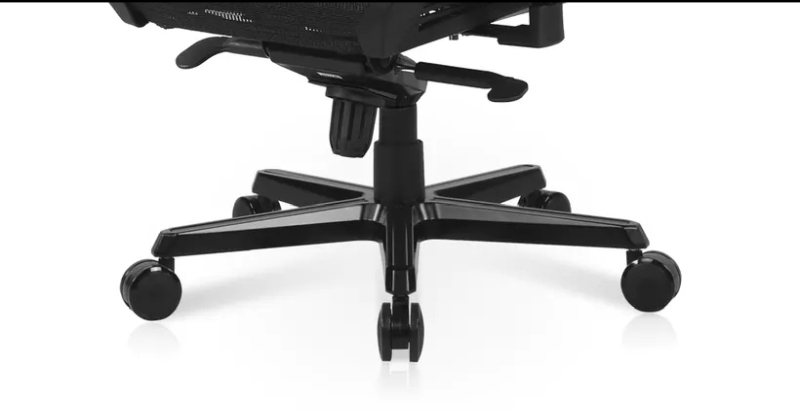 However, if you like to sit back in your chair, you cannot just fling yourself back with the AIR. The five legs that come out from the base extend outward 10 inches each, or 25.4 centimeters, creating an ample anchor for the upright position. If you recline too hard, the AIR can tip and even fall because of it. It still takes a lot of imbalance to topple this chair over, but still bear this point in mind.
Cost And Assembly
Assembly for the AIR took me about half an hour or so. I unfortunately had to assemble my chair in a smaller space, so it took a bit longer. If you have more space in which to work, you won't face the same problems I did.
Either way, the chair comes in primarily three main pieces: the chair seat completely assembled, the five-legged base, and the cylinder that connects them. Outside of that, the only other major construction you do comes when you attack the back of the chair to the seat and the base to the seat, but these only require some of the included bolts. The bolts require a hex screwdriver, but the full kit comes with its own tool for this, so the AIR comes with everything you need to put it all together.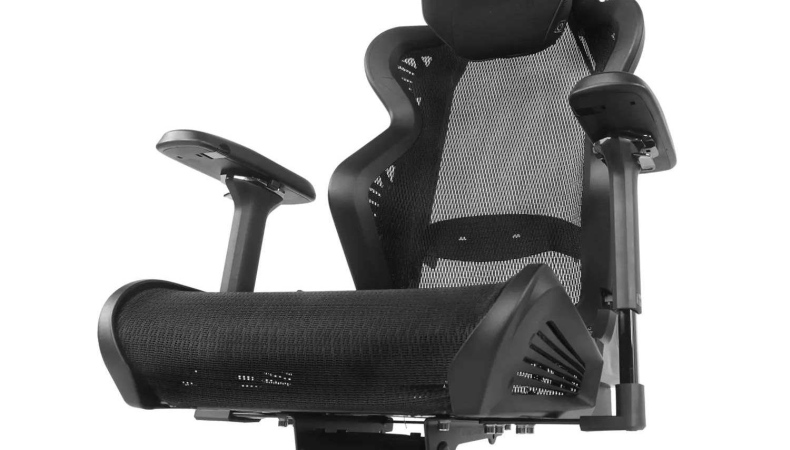 Now comes the hard part: This chair retails normally at $499.00, or £372.94. Taking care of yourself is more and more important as you go along, but that always comes with a price tag. Consider your needs beforehand, but if you need a supportive, reliable chair and have the means to obtain one, the DXRacer AIR has your back, complete with two-year warranty for any accessories you may buy for it and a lifetime warranty for the chair's framework.
Premium Support Chair With Professional Presentation
Like any good product, the DXRacer AIR Mesh Gaming Chair has a short break-in period for the chair to conform to your body. Once it does, you won't need another chair. In fact, if you're like me, getting a second one for work may cross your mind at some point, despite the hefty price tag. Just don't treat the AIR like a jungle gym and it will support you completely.
Review unit kindly provided by distributor.
Source link : PSU